Can Stormy get the cum out of you?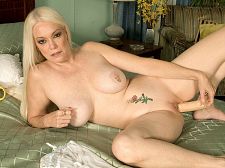 Ya gotta love a woman like Stormy Rose, a 54-year-old dominatrix from Fort Lauderdale, Florida. She thinks she's controlling us. She thinks she's got us in the palm of her hand. In reality, the opposite is true. We've got our cocks in the palms of our hands because Stormy is showing off her big tits and shaved, pierced pussy and fucking it with a veiny, lifelike dildo. She thinks she's teasing us. Honey, as long as we're jacking to your actions and shooting spunk at the end, we're getting exactly what we want.

Then again, maybe that's the whole idea. Maybe Stormy just likes to think she's in control, talking to us and teasing us and spreading her cunt and drilling it with her fuck toy. But she knows the deal.

"Every guy has a kinky side," she said. "Some have more than others, obviously, but I can get it out of anyone."

There are definitely some things she can always get out of us.
Related MILF Bundle Videos